individual packages
All packages get tailored during each step of the process. Assessments and prices can vary by location. We will prepare a quote for your bespoke package for you.
Rescheduling may incur charges due to the high degree of coordination required for personalised assessments.
Please also note the caveats at the bottom of the page.

Click here to send us an enquiry email , give us a call on 020 7043 9688 or click below to fill in our enquiry form.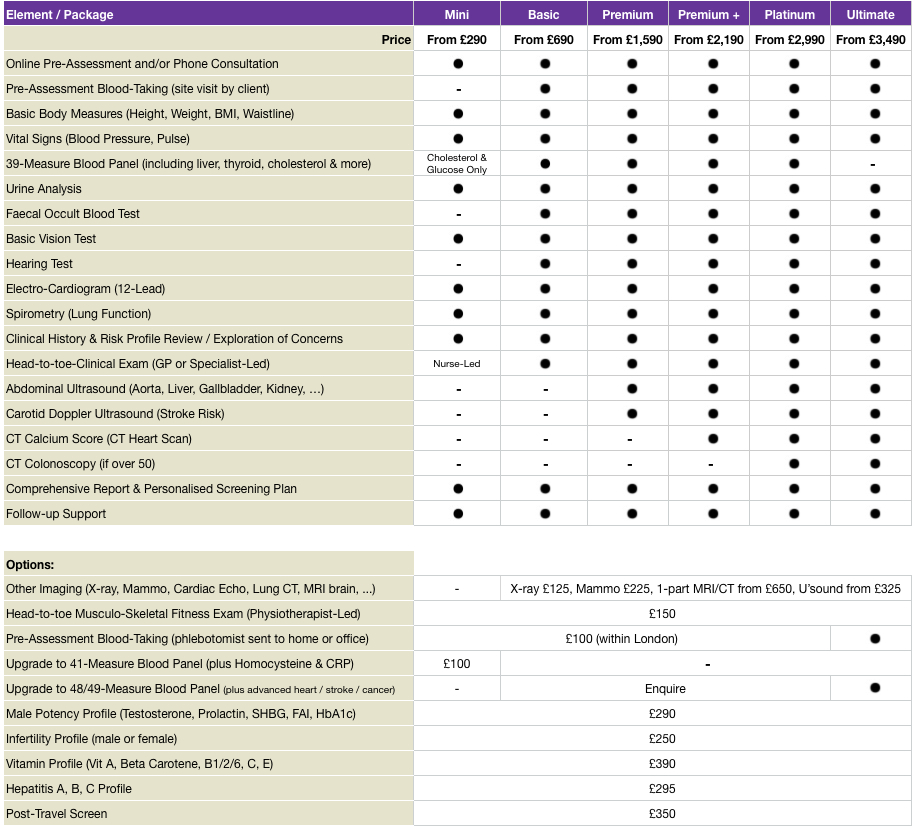 Caveats:
- Any investigation carries a certain risk of false positives (i.e. it may show an abnormality that does not turn out worrying or dangerous) and false negatives (i.e. it may miss a risk or disease despite its presence)
- Some tests (such as, for example, a mammography) may be available to you for free on the NHS
- You may receive results that present a dilemma in terms of pursuing further investigation
- You may receive results you cannot do much about but cause you worry
We want you to understand these caveats as you pursue the benefits of earlier identification of issues, risks and disease (versus waiting for symptoms) in order to optimise your lifestyle, future early detection strategies and early intervention where indicated. We will look to facilitate the best possible support for you if you should need to make difficult decisions about the findings in any assessment.